Below is a list of my most popular cartooning services. Click the links to see more information and view portfolios.
My cartooning services aren't restricted to the categories below. If your requirements are outside of what's below please feel free to email me and let me know what you need. I'm certain I can be of assistance.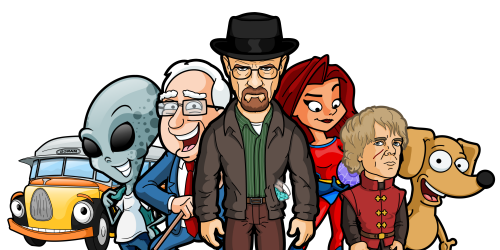 I create beautiful mascot designs for branding, marketing and costume creation.
Would you believe, customers trust mascots and cartoon characters more than sales people. There's no better way of portraying your brand in a friendly and more fun light than having a mascot character represent your company.
My cartoon character design services are perfect for model sheets, pitches, references for comics and animation. Character design stretches a vast range of use. 
As a character designer with over 12 years experience, I understand what it takes to make an eye-popping, unique character work for your project.
Comic strips are perhaps one of the most powerful marketing tools you can use for your business. They are great for drawing attention to a subject, explaining a product or service and so much more.
My comic strip services include political cartoons, personalized orders, comic books, graphic novels, story boards and honestly I could go on.
My experience in cartoon illustration covers children's book illustrations, book cover designs, website banners, social media marketing, posters, calendars and so much more.
As such, "cartoon illustration" is a general term for any design that involves a cartoon scene including backgrounds, props and a multitude of characters.
A cartoon logo will not only make your business stand out from your competitors, but it will also create a memorable experience for potential clients.
I'm vastly experienced in creating unique, fun and attractive logos that your business is crying out for. Check out my logo portfolio to see what I can do for you.  
If you'd like to try before you buy, feel free to download some vector artwork from my stock illustration page. I have a small library of characters featuring animal, robot and human characters.
Please note, these illustrations are free for personal use only. If you do wish to use them commercially for projects, please contact me.