About Me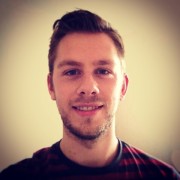 Firstly, congratulations that you've made it as far as my 'About Me' page. I'm glad to know you're interested :). So, what about me? Well.. As you know already, I'm a freelance cartoonist. I turned professional in 2006 after making my first website and getting my first client. It's been a heck of a roller-coaster ever since.
Don't worry, I won't bore you with my life story. (I'd bore myself). I guess you just really need to know a few basics. After all, you'll want to know what type of person you might be hiring. So I'm based in the U.K. Braintree to be specific, which is in Essex. And I work in a home-based studio. I'm incredibly lucky that I get to do the work I love around the people I love. I have two very beautiful, yet very small children, who I adore. So I'm a very family-orientated individual. they inspire me to work hard and keep me focused and driven (which is good news for you!)
Yes, that is my mug just to the left there. I was going for the 'warm, friendly, approachable' and the 'I'm quite cool' look. But as you can see, I failed on both fronts and ended up with what I can only describe as a cross between confused and constipated. I even put a warm filter on the photo, to make me appear…, well, 'warmer'. Yup, failed.
Anyway, I've been cartooning for as long as I can remember. I think it all started when I used to draw lots of turtle heads when I was a kid. I'm talking about TMNT heads by the way ;). My main artistic influences would have to be TV shows such as the Simpsons, Futurama, Looney Tunes, Family Guy and of course, Disney.
My Skills
I use a Wacom Cintiq tablet for my artwork. I use it for the sketching and digitizing process. Though I'm equally adept at sketching by the traditional method of pencil and paper. Software I use includes Adobe Photoshop, Illustrator, Sketchbook Pro, and a few older ones. I'm also quite into animating, but my success as a freelance illustrator in recent years has built a lack of exercise in this particular form.
My Company
I've been trading as limited liability company since January 2011. This company is called ToonJam Studios Ltd.
My Projects
Whilst being busy freelancing, I've also been working on many projects of my own. Most of which are currently incomplete. These include mobile games, a 'How To Draw Cartoons' eBook, Stock Illustration and more.
My Future
Just like anyone else, I have hopes and dreams. For me, the ultimate dream would be to have my own animated TV show one day. I feel I'm many years away from achieving that just yet. But we can all dream can't we?
Thank you for reading :). You made it further than many others have. Bravo!
Contact me here to hire me for your business/ project.