Rihanna Cartoon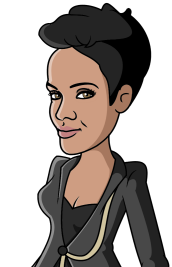 This is a cartoon I have created of Bajan singer Rihanna. Rihanna was bloody difficult to get right and make it look like her. She changes her image so often it's difficult to pin point her 'look' but I think I got this Caricature of Rihanna right. The key is her large forehead and big long legs.
I think I'll try creating her in a different style too and see if she looks better. Keep your eyes peeled for that post. You can also see this cartoon of Rihanna on Celebrity-Cartoons.net
Celebrity cartoons coming soon  – Johnny Depp,  A Back To The Future Montage, Susan Boyle and Jack Nicholson.